The Renovation of the Historic Schuette Building
Registered as a historic property in downtown Manitowoc, the former Schuette Brothers Department Store is being meticulously restored to its turn of the century elegance and prominence. Built in 1902 and located on the corner of South 8th and Jay Streets, the Schuette Building Commercial Spaces and Luxury Apartments will offer dramatic ceiling heights with tin ceiling tiles, original hardwood flooring, expansive views with floor to ceiling windows, decorative pillars and brick accent walls. The hand carved grand staircase will be the focal point in the common area which connects all of the commercial spaces together.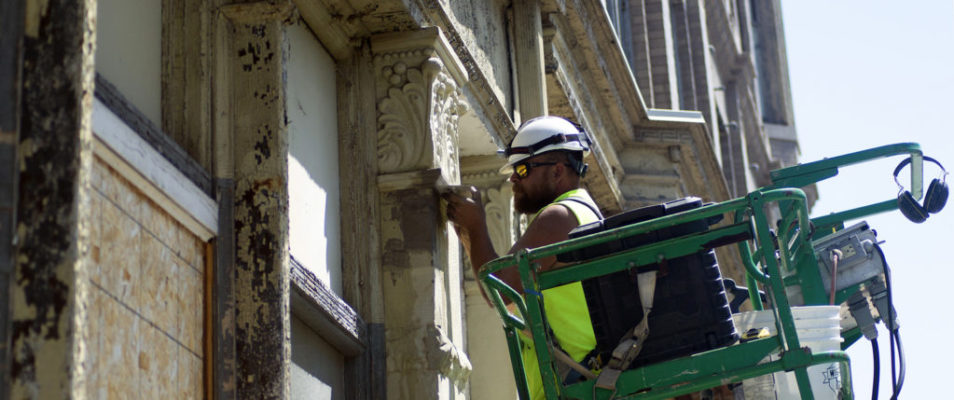 We would like to share some 3D floorplans of our apartments with you that show the uniqueness of each unit. While original hardwood flooring is restored throughout most of the units, others have one-of-a-kind indoor patios with skylights, freight elevator space turned into a custom nook and oversized windows that give expansive views. Every inch of space has been utilized and features dramatic ceiling heights, modern cabinetry, in-unit washer and dryer, and access to a roof top deck.
DONEFF COMPANIES LLC: PRIME COMMERCIAL REAL ESTATE FOR LEASE at the Historic Schuette Building in Downtown Manitowoc. We have several very unique, ground level suites still available for Fall 2019. These spaces can be used as a retail shop, restaurant, studio or office. You will love the architectural details that are being restored including hardwood floors, dramatic ceiling heights with tin ceiling panels, and stunning, natural lighting from oversized windows.